I know I've neglected this blog and haven't posted as often as I should. I do have a lot of topics flowing around in my head but as I think of them while I'm driving to and from work (I have plenty of time to think during my commute) I think out how I would write the post and promptly forget it the moment I'm in front of a computer.
London – Was fabulous by the way. The place is horribly expensive but wouldn't be if the dollar/pound exchange rate was on equal footing. I know it hasn't been in ages but 10 years ago when I went there for the first time it was a bit more reasonable 1.50 pound to the dollar instead of the 1.99999 to the dollar it currently is. Either way that place is just fabulous, and vibrant and full of life despite their typical gloomy weather. The question I should really ask myself about the weekend is: How many bottles of wine can two people drink in one weekend and I believe I lost count. What I love about Europe is that you can buy a good bottle of wine at a restaurant (despite the exchange rate) and it doesn't cost an arm and a leg. Either way make sure you drink every last drop because as my girl Jonelle said before we left a pub near her house: "I know when my next meal will be but you never know when you'll get your next drink" or something like that. I'd just drank a ½ pint of Guinness and shared a bottle of wine with her so I think that's what she said.
While Jonelle was running her errands on Friday I hung out at the London Zoo and walked around town. The weather was really lovely and I just wanted to take in the sights, sounds and smells of London. I stopped in for a Bacon Sandwich (I know not on the diet but when in London) with brown sauce. They are soooooo good it's ridiculous. Not sure if it's the cut of bacon they're using or if it's that brown sauce (not sure what's in it, maybe crack) but it's sooo damm good. Saturday we went down to Brighton so we could see the sea. I've never been outside of London so it was cool to see another town. The streets were so quaint and after hitting up this
Soul Food Restaurant
where the food was on point. We ended up walking up to the rock beach (no sand at this place) and lying down on the rocks and taking a nap. The itis was that bad that I ended up sleeping comfortably on some rocks!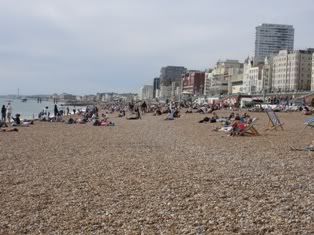 We went back to London that evening and went out with a friend of Jonelle's and had a great time chillin'. On our way back to Jonelle's we stopped by a bar in her neighborhood that plays hip hop and it always amazes me how hip hop has spread all over the world and not just the booty shaking stuff but some good stuff.
I left the next morning for D.C and am home until Tuesday when I get on yet another plane for what I am praying is my last work trip of 2006.